Home
Live painting – Culture Night – RiverHouse, Phnom Penh
I will b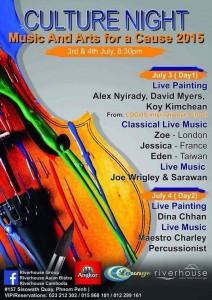 e painting live, with wonderful live classical music, and percussion performed by fantastic musicians.
Saturday the 4th of July 2015  – Live painting by Dina Chhan. Live music by percussionist Maestro Charley.
Friday the 3rd July 2015  – Live Painting: Alex Nyirady, David Myers, Koy Kimchean. Classical Live Music from around the globe. Live Khmer fusion with Joe Wrigley & Miss Sarawan.
Where: River House, Phnom Penh, Cambodia
Time: 8:30 PM.
Free Admission. Come and join the fun!
My Sculptures and Paintings feature in Laura Mam's new music video
Embedded post will show on publish
Live Painting – Phnom Penh, Cambodia – Advisor Street Party 2014