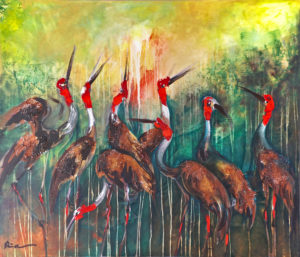 On several trips to Phnom Ta Zoo in Takeo province, painter and sculptor Chhan Dina was left saddened. While people flocked to see animals from around the world, she lamented the lack of native Cambodian wildlife on display.  
"I really want to see the Cambodian birds and animals, but I was disappointed because I didn't see any," she said yesterday at a hotel in Phnom Penh.
While she admitted that she did not always have an appreciation for animals, a trip to Prek Toal bird sanctuary on the north-western edge of Tonle Sap Lake with the Wildlife Conservation Society (WCS) almost a decade ago helped sway her.
The beauty of the giant ibis and sarus cranes she saw on that trip became seared into her memory and formed the basis of her latest exhibition, "On the Verge of Extinction," which opens tonight at InterContinental Hotel's Insider Gallery.
The giant ibis and sarus crane species are classified as critically endangered and vulnerable respectively, according to the International Union for Conservation's red list.
The giant ibis, despite being given near mythical status due to its size of up to 100cm tall, has suffered due to hunting, lowland deforestation and habitat loss, according to the World Wildlife Fund.
Meanwhile, Cambodia is one of the last population strongholds for the sarus crane, according to WCS, which are dependent on flooded grasslands during their breeding season and permanent marshlands for feeding during the non-breeding season.
Dina hopes her work will encourage and inspire Cambodians, not only to become more aware of their own wildlife, but also the creative and critical value of art itself.
"I want people to understand what is beautiful in Cambodia," she said.
"I hope my art can inspire people and they can understand what is important, why artists paint. Not just to sell, but the meaning behind it."
Dina has carved out a global career spanning 15 years thanks to her dynamic and abstract sculptures and paintings, with her latest exhibition being no exception.
Using French-sourced oils that can take up to six months to dry on the canvas, she depicts surreal and vibrant wetland landscapes, where cranes and ibises flock and feed, in what she hopes will evoke a sense of national pride.
She says she believes Cambodian attitudes to art are changing, especially among young people who have more access to artistic education.
"Eight to 10 years ago, art was not the highest priority, but now art is becoming more important, more popular, even abstract stuff," she said.
"A lot of NGOs and international schools have a lot of visual arts in their curriculum, so I think here in Phnom Penh, the younger generation have more opportunities to learn about art."
Last year, she was named as one of four artists to join Cambodian Living Arts Fellow Program, which aims to nurture the artistic talents of young Cambodians.
While Dina never saw herself as a leader, she feels that as a female artist she can set an example, showing women that the realm of the Cambodian artistic world is not only for men.
"We believe in ourselves and we can do it by ourselves and I think most women now can be independent, so they can have the choice of becoming an artist," she said.
"I can see change now, not the old traditional style. I really hope as a woman to see the work of Cambodian female artists in the future."
It is this change that she hopes will encourage new artists to depict the natural beauty of the kingdom and the wildlife that inhabits it, while it lasts.
"They're one of the beautiful things we have left in Cambodia and people need to see this remaining beauty, so I think as an artist I want to share this message to people," she said.
Originally Printed in the Khmer Times – 5th January 2017 – Written by Mark Tilly