The marketplace – a reflection of the soul of the people. It is a sensatory explosion of smells, tastes, sights and sounds. Cambodia's markets are a microcosm of its culture and society – they embody organized chaos, immersing one in the passions of everyday life.
Market – Disoriented is a collaborative exhibition by artists Dina Chhan and Takakazu Yamada which explores the theme of Cambodia's market as the archetypal element of Cambodian culture and authenticity.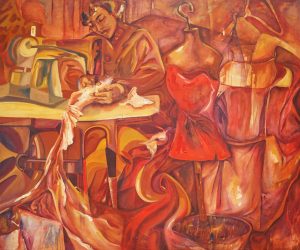 Strolling through one of Cambodia's markets can be a disorienting experience: the anarchic cacophony of chatter, narrow compartments filled with fumes from the nearby food stalls, the endless labyrinth of clothes, shoes, fabrics or household goods. Yet in the hustle and bustle of the market, one can observe a realm of stories, relations and interactions which reflect the soul of Cambodian culture. It is this very depth which artists Dina Chhan and Takakazu Yamada seek to render through a juxtaposition of their contrasting styles and techniques.
Artist Dina explains that the identity of Cambodia is seen inside and around the market. "It is part of everyday life. We thought it would be best to paint about something that is very Cambodian." "It is the liveliness of the Cambodian people that I always feel in the market" adds Yamada.
In 'Market – Disoriented' the contrasting styles of artists Dina and Yamada serve to bring forth distinctive visions of the Cambodian markets. Yamada for instance explores the notion of the market spilling out into the city – "The market means a lot of shops, but I feel that Phnom Penh city itself is the market, crowded with motorbikes and tuk-tuks. It's messy and amazing". Dina in turn, is inspired by bright colors and particular elements: "One thing I focus on in my paintings are fish eyes – I find them so emotional, when I walk in the market I always look at them. They inspire me, the green, blue."
Through this comparison, the artists aim to celebrate the friendship between the two countries. "We hope that Cambodian people also see this art, we want people to see that all of our imaginations are different and exciting". This exhibition is a tribute to 65 years of friendship between Cambodia and Japan.
Opening at the Lotus Pond Gallery, Plantation, Phnom Penh, Cambodia.
The exhibition will open on Thursday the 8th of February 2018 and continue until 19th of March 2018.